Destiny 2 is a first-person shooter game where players battle enemies and complete story missions in an online multiplayer environment. While some of the content is available to play offline, it's recommended that you complete all activities online with other players. Each week this guide will be updated by adding new locations for Calus' bobbleheads each day until they are found every location in Destiny 2.
"Calus bobblehead week 2" is a blog post that has been released for the first week of Destiny 2. The blog post includes all the locations of Calus's Bobbleheads.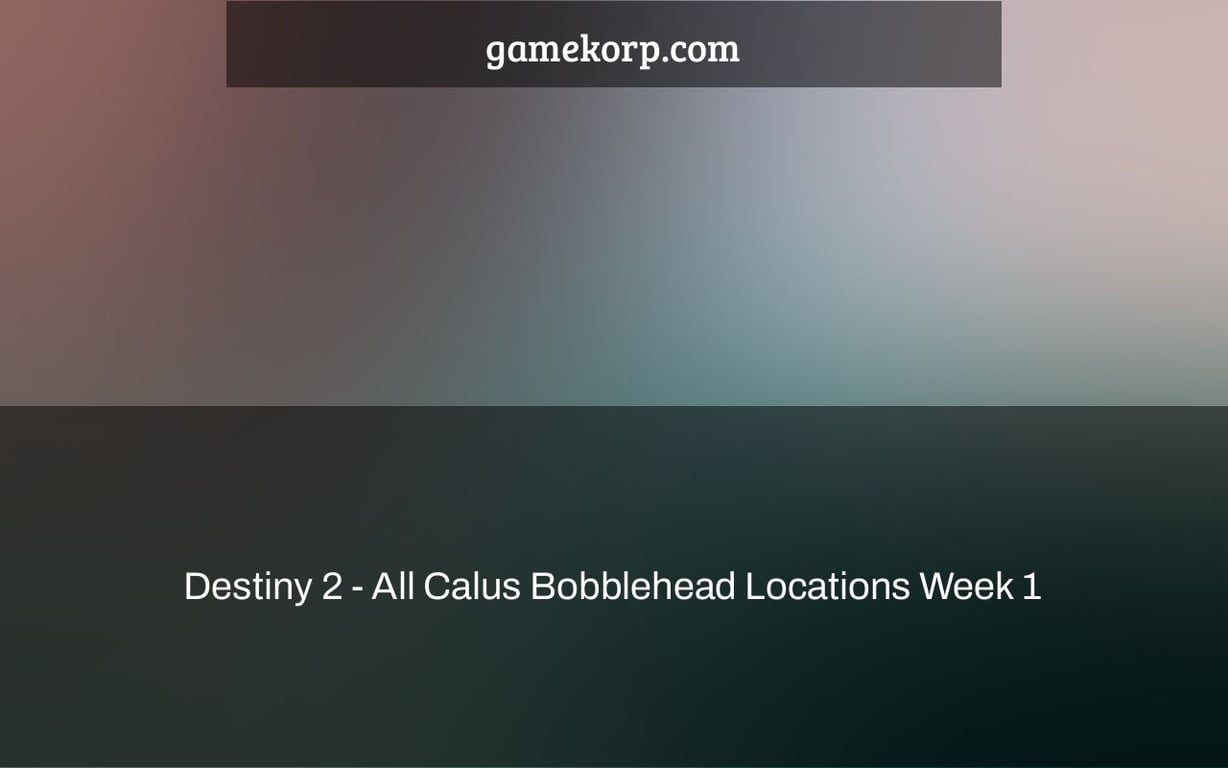 Published: 25 May 2022 | Last Updated: 25 May 2022
Season 17 of Destiny 2, dubbed Season of the Haunted, has now come for all players, and fans of the game have already begun checking in to discover all of the new stuff that the new update has delivered. Calus bobbleheads, which can be discovered in the Derelict Leviathan, are one of Season 17's newest novelties that many players are eager to investigate.
In Destiny 2, the Leviathan is a gigantic ship that was once a part of an ongoing raid. It has been brought back in Season 17, although in a derelict form. The Guardians are free to explore the ship and uncover all of the Calus bobbleheads that have been stashed within. 
Week 1's Calus bobblehead locations are listed below:
Week 1 Calus Bobblehead Locations in Destiny 2
'Volsunga,' a Reddit member, has found all of the week 1 Calus Bobbleheads and has posted his discoveries in a Reddit thread.
The first bobblehead, as described in the article, may be located in the Royal Pools. A hole in the floor may be found in the room's rear right corner. Players must continue the trail all the way to the finish, where the Bobblehead will be waiting for them on the ground. 
The Severance mission contains the second bobblehead. The Bobblehead is buried on the landing at the top of the shaft and can be accessed by climbing the tubes and edges on the right side. Players will have to use the wrench to deactivate the electric wall to get to the override switch. 
In the Castellum, a bobblehead may be discovered in the closed door to the left of the landing zone. When a tier III boss is defeated, the door unlocks.
The last bobblehead can be found in the Pleasure Garden, just behind the large Calus statue. Check out this video to see where all of the Bobbleheads are now located:
https://www.youtube.com/watch?v=bsxDL jBtE4
---
That concludes our Destiny 2 guide. Thank you for taking the time to read this!
Related
The "bobbleheads" is a collectible item that can be found in Destiny 2. There are 20 different locations in the game, and each location has a chance of having a bobblehead. The first week of Destiny 2 has 5 locations, so there is a 50% chance at finding one.
Related Tags
bobble head destiny 2 week 2
severe bobblehead destiny 2
castellum bobblehead destiny 2
bobble heads
fallout 76 bobbleheads