If you love giant monsters, Kaiju Wars is the game for you. The gameplay is a bit of a stretch considering how simple it seems and there are some features missing that would make the experience more enjoyable like character customization or voice chat. Even so, if this was an old-school release on PC in your childhood bedroom then I'm sure it'll be worth giving another look with newer eyes.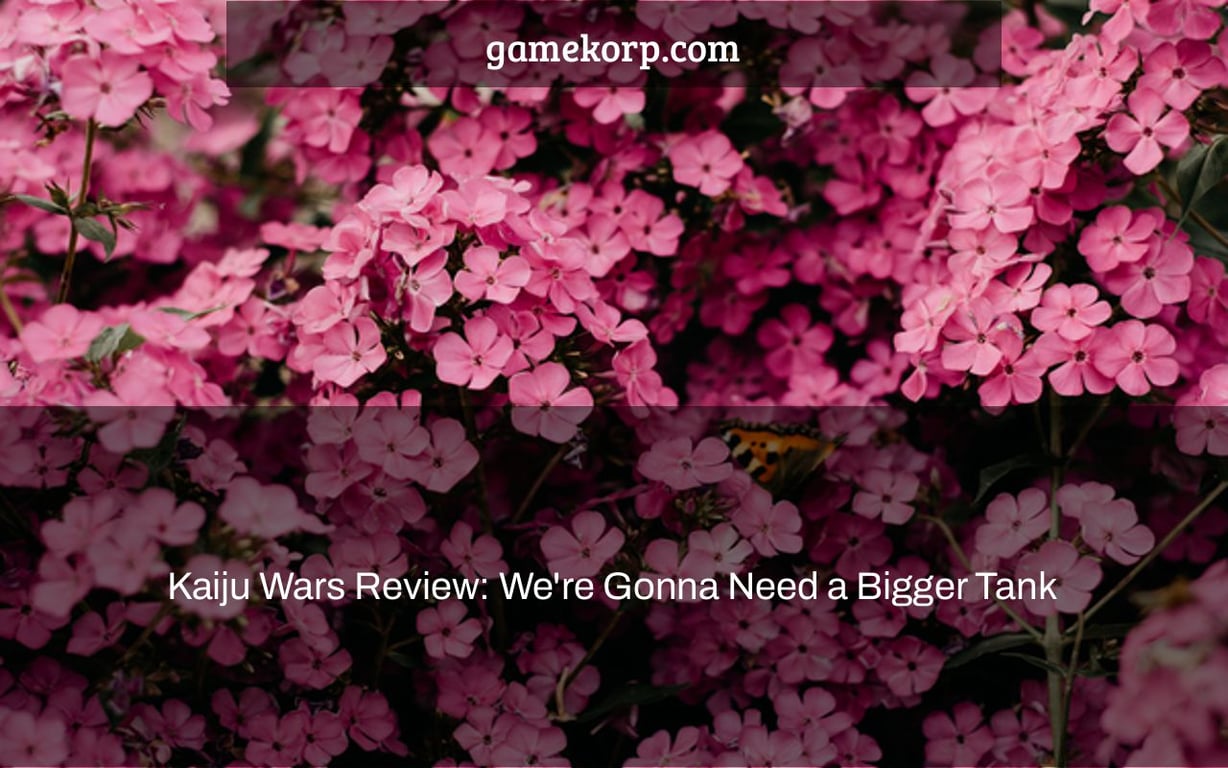 You've undoubtedly played a few games like Kaiju Wars if you like turn-based strategy games. Kaiju Wars distinguishes itself by introducing its own flavor and mechanics to the tactical table, similar to games like Advance Wars and Into the Breach in terms of energy. 
You find yourself in an unwinnable combat against an unstoppable monster, similar to the Japanese Kaiju monster movies of the mid-1950s and beyond. Actually, there are quite a few of them. It's up to you, the leader of your city, to command the efforts to keep the Kaiju at bay and from completely destroying everything in sight, with the help of a cast of borderline campy advisers. 
Review of Kaiju Wars: We're Going to Need a Bigger Tank
Kaiju Wars offers a simple lesson with a few interesting twists. Major Danger, the commander of your Armed Forces, is introduced to you. He guides you through the first Kaiju invasions, despite his lack of intelligence. Then there's Commander X, who's like a living commercial, and Dr. Wagner, the mastermind behind all things Kaiju. 
The tempo of Kaiju Wars is rather forgiving. With this in mind, you should take your time examining the maps and considering how to effectively use resources like as soldiers and ability cards. The margin for mistake is small, and restarting is usual if too many structures are damaged or you lack the resources to continue battling.
Part of the draw of games like Kaiju Wars is the necessity to manage your resources and soldiers. Because everything is essential, it pushes you to slow down and consider your options, which is particularly vital given that Kaiju cannot be killed. At best, you may frighten them away, only for them to return stronger than before.
With the inclusion of upgradeable soldiers and missions where you're in control of developing your event deck — triggers that may be played to help you escape the assault – Kaiju Wars five acts has a little something for everyone. 
Kaiju Wars' visual style is reminiscent to classic Super Nintendo games. The buildings, units, tiles, and the kaiju themselves all have a sharp, vintage appearance, which is accentuated by the soundtrack and sound effects. 
There are several interactive elements to explore on the main menu, including video connections to a variety of vintage Kaiju films that can be seen for free online, as well as links to similar games on Steam. Once you've gone far enough in the game, you'll be able to access accurately reproduced stages from Godzilla 2: War of the Monsters, a 1992 Nintendo Entertainment System game.
Outside of the main storyline, Kaiju Wars offers more to offer, including a map builder and a PvP mode in which one player assumes the role of the Kaiju.
The map editor suite is robust, enabling you to fine-tune situations down to the Kaiju's specific hitpoints. Player-created material may also be uploaded for others to test out, extending the game's life beyond the 50+ (literally) handmade maps included in the main game.
Another interesting feature is that Kaiju Wars supports Twitch.tv broadcasting, which allows gamers to have their community input words into the game for different NPCs in buildings. When the Kaiju destroys your final army base, or when you make it slink back to its cave to lick its wounds, nothing beats a little ribbing from your community. 
Review of Kaiju Wars — The Bottom Line
Pros
The audio and images are excellent.
It's a difficult design.
Content created by the community.
The pace is excellent.
Cons
There is a little learning curve.
There are a few minor graphical flaws.
While Kaiju Wars has a similar feel to it, there's enough here to set it different from other games in the genre. The main campaign is a lot of fun to play, with terrific pace, tactical play, and pop-culture highlights. The first act is around six hours long, with a total of five acts.
Add in the almost infinite quantity of player-generated material, and Kaiju Wars is a game that lives up to its name — it's a game you'll want to return to again and again. 
[Note: The copy of Kaiju Wars utilized for this review was given by Foolish Mortal Games.]